Victorian Style Christmas Cards
Victorian style Christmas cards are an essential part of celebrating a Victorian Christmas because the Christmas card was invented in Victorian times!
Historically, the most famous early postcard is probably the first Christmas card. This was actually a piece of art done by the painter John Callcott Horsley that a businessman commissioned to advertise his business and serve as a greeting for friends and family. That is done still to this day, as business postcards are frequently sent out at Christmas time by dentists, real estate agents or whoever wants to stay in your mind. What is interesting to me about this card is that it demonstrated an evolving consciousness that was coming about in the Victorian British public. That is the wealthy businessman is shown in the center of the card celebrating a rich Christmas dinner. He is surrounded by the poor and wretched in the shadows. I believe that was the businessman telling us to be compassionate about the poor, but I also wonder if he felt some guilt about his riches, and wondered what he could do to even the score.
Victorian Style Christmas Cards
There are lots of Victorian style Christmas cards that you can purchase, full of charming Victorian motifs.
M1760XSsl Lacy Holidays: 10 Assorted Christmas Note Cards Feature Victorian Sentimental Images, w/White Envelopes.
Punch Studio Christmas Dimensional Greeting Cards: Winter Cathedral with Gold Foil Embellishment (Set of 12)
Skating Joy Christmas Cards By Victorian Trading
Victorian Christmas Note Card Size Personalized Christmas Cards (Set of 20)
Handmade Dimensional Victorian Angel Christmas Cards Embellished with Glitter By Anna Griffin — Set of 10 Cards and Envelopes
PX2895 Thomas Kinkade Victorian Joy Hallmark Boxed Christmas Cards
Disney Parks Mickey Minnie Mouse Victorian Christmas Holiday Card Box of 14
VICTORIAN HANDMADE CHRISTMAS CARDS ASSORTMENT-HIGH QUALITY AT A GOOD PRICE
VICTORIAN XMAS CARDS FOR CHILDREN
3dRose Print of Victorian Family Christmas Framed in Gold Greeting Cards, Set of 12 (gc_195109_2)
VICTORIAN CHRISTMAS CARDS ASSORTMENT
Vintage Victorian Christmas Cards
Collecting Victorian cards was very popular so you actually can get many vintage Victorian Christmas cards if you watch out on eBay.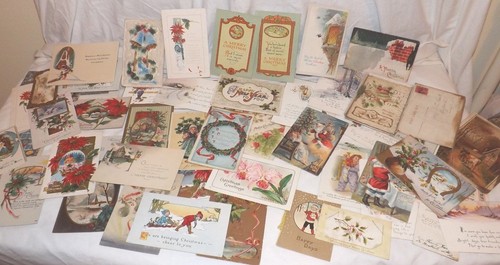 Lot of 56 Antique Vintage Victorian Christmas New Year Holiday Postcards Cards

Some times it cost a lot to celebrate a Victorian Christmas. It can be expensive to throw an authentic Victorian Christmas dinner, or even put up a Christmas tree. But anyone can afford to celebrate the holiday with Victorian style Christmas cards.
---
---