Victorian Style Christmas Cards
The First Victorian Christmas Card
Victorian style Christmas cards are an essential part of celebrating a Victorian Christmas because the Christmas card was invented in Victorian times!
Historically, the first Christmas card was a postcard. This was actually a piece of art done by the painter John Callcott Horsley in the 1840's. A  businessman commissioned to advertise his business and serve as a greeting for friends and family.
Business people still use business postcards to this day. And especially  business postcards are frequently sent out at Christmas time by dentists, real estate agents or whoever wants to stay in your mind throughout the year.
The first Christmas postcard is fascinating to examine. The contrast in the two groups of people  demonstrated an evolving consciousness. The Victorian British public were becoming dissatisfied with the class system as it was.
That  wealthy businessman is shown in the center of the card celebrating a rich Christmas dinner. He is surrounded by the poor and wretched in the shadows. I believe that was the businessman telling us to be compassionate about the poor. However,  I also wonder if he felt some guilt about his riches, and wondered what he could do to even the score.
The First Victorian Christmas Greeting Cards
Twenty years passed from  the first Christmas card to the development of the Christmas greeting card business.  You see,  they started as calling cards – which was a traditional Victorian custom. Soon, leaving  a Christmas card when you visited during the holidays became very popular.
In contrast to the first Christmas cards, these Victorian Christmas cards did not dive  so deeply into social justice.Instead, they  they focused on the charm of what was believed to be a  perfect Victorian Christmas. In addition to Father Christmas, the Christmas tree and other Christmas motifs, these Christmas cards were full of charming sentimental images.
Victorian Style Christmas Cards
Even if you are not sending antique Victorian cards, there are still plenty of Christmas cards in the Victorian style for you to send.
These cards are full of charming Victorian motifs.
M1760XSsl Lacy Holidays: 10 Assorted Christmas Note Cards Feature Victorian Sentimental Images, w/White Envelopes.
Punch Studio Christmas Dimensional Greeting Cards: Winter Cathedral with Gold Foil Embellishment (Set of 12)
Skating Joy Christmas Cards By Victorian Trading
Victorian Christmas Note Card Size Personalized Christmas Cards (Set of 20)
VICTORIAN HANDMADE CHRISTMAS CARDS ASSORTMENT-HIGH QUALITY AT A GOOD PRICE
VICTORIAN XMAS CARDS FOR CHILDREN
3dRose Print of Victorian Family Christmas Framed in Gold Greeting Cards, Set of 12 (gc_195109_2)
VICTORIAN CHRISTMAS CARDS ASSORTMENT

Vintage Victorian Christmas Cards
In addition, the hobby of Victorian card collecting is alive and well. During the Victorian age collecting Victorian cards was very popular. So you actually can find  well-preserved vintage Victorian Christmas cards if you watch out on eBay.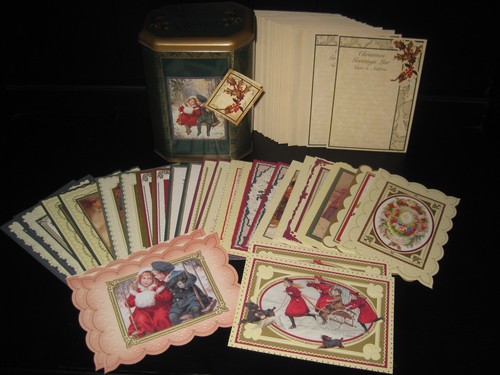 VTG LOT OF 26 VICTORIAN COLLECTION SANTA KIDS XMAS GREETING CARDS UNUSED & TIN

Some times it cost a lot to celebrate a Victorian Christmas.
Furthermore, it can be expensive to throw an authentic Victorian Christmas dinner, or even put up a Christmas tree.
However, anyone can afford to celebrate the holiday with Victorian style Christmas cards.
---
---